eSimOptimizer®
For shorter time horizon margin management, eSimulation provides the eSimOptimizer economic/process optimization solution to maximize plant profitability. eSimulation began operations in early 2000 by deploying the eSimOptimizer solution to manage key energy and process tradeoffs at the plant level.
eSimOptimizer adds value by improving plant recovery performance, maximizing energy efficiency, and managing plant bypass volumes. Benchmarked results - based on extensive experience in optimizing a variety of processing plant configurations - and ROI's delivered for our clients... are very compelling!
Technology
By centralizing the technology platform in our datacenter, eSimulation is able to offer the eSimOptimizer solution at a price point that is viable for a wide range of cryogenic applications...even for smaller cryogenic facilities.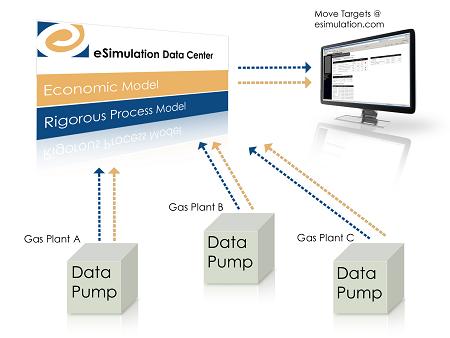 eSimOptimizer is unique in that it utilizes internet and database technology to allow for centralized management and support of the process optimization applications by eSimulation.
Our business practice for online, web-based applications bundles software usage and support services to sustain the value of your investment over the long term. The all-inclusive support model for eSimOptimizer has proven to be very effective at keeping advanced applications well-tuned and functioning properly, while minimizing the effort required by our clients.
Value Capture Program
The real challenge associated with deploying online optimization technology is to address the human factors associated with sustaining optimization initiatives. To address these human factors, eSimulation offers its Value Capture Program.
The Value Capture Program includes bi-weekly process reporting and follow-up conference calls. The Value Capture Reports provide a detailed description of the optimization move suggestions for operations, engineering and management personnel to review. A brief conference call is then held with each plant to review the optimization moves and to discuss current constraints and operational directives. The Value Capture Program was developed by Enogex and eSimulation and described in a joint technical paper presented at the 2007 National GPA meeting.
The Value Capture Program serves to keep client operations, client engineering, and eSimulation's optimization engineers aligned to maximize asset profitability using the eSimOptimizer solution. Most importantly, it provides a mechanism for eSimulation to receive the feedback necessary to keep the eSimOptimizer solution tuned to reflect current operational conditions.