The Future of PredictionTM
Manage current and future business performance through an integrated business model
eSimulation introduces an innovative tool for midstream operators; an integrated operational and financial model that optimizes tradeoffs while enabling an accurate forecast of future business performance. The eSimulation predictive modeling portfolio is used by gathering and processing companies to:
Increase energy efficiency and optimize product recoveries at gas plants every two hours
Leverage a business-wide model, including inlet meters, gathering/processing, and sales points
Track oil, gas and condensate from the well head to sales points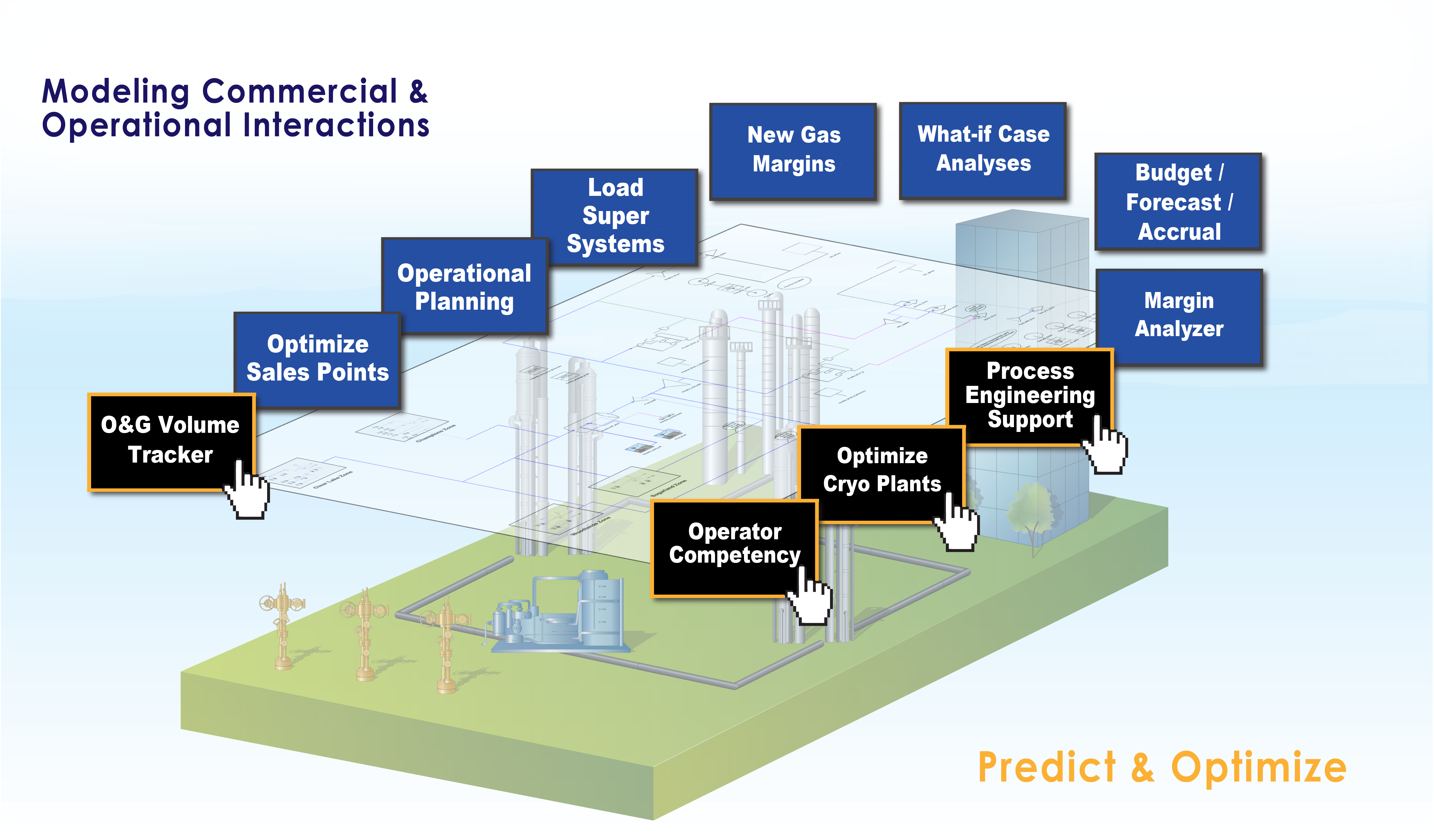 Lost margins today - a compelling opportunity tomorrow
Currently, most midstream companies have difficulty accounting for both financial and physical interactions in their daily commercial, operational, and planning processes. Frequent fluctuations in operations are not accounted for in planning, forecasting, budgeting, and accruals. Likewise, operations often lacks timely visibility of contract, pricing, and pipeline economic fluctuations that affect their assets. This gap results in lost margin opportunities and eSimulation bridges this gap.
How eSimulation delivers improved business performance
Achieve profitability goals by increasing energy efficiency and optimizing product recoveries at your gas plants on a two hour basis. The eSimOptimizer® gas plant optimization package maximizes energy efficiency in both ethane recovery and ethane rejection modes. eSimOptimizer also optimizes ethane and propane recoveries during periods of ethane rejection operation.
Model entire Midstream enterprises from inlet meter and associated producer contracts, through gathering and processing assets, and on to residue and NGL sales points (including supersystem interactions). The eSimEvaluator® system-wide business modeling platform considers commercial and operational interactions to provide a much higher level of certainty relative to budgeting, forecasting, accruals, and new gas package margin estimates. A 'what-if scenario' capability identifies ways to improve asset profitability on a daily basis.
Track and identify losses in oil, gas and condensate from the well head to sales points. The Oil and Gas Volume Tracker application captures measurement, SCADA, custody transfer, and production data from multiple sources, and makes them available in an industry standard data warehouse.
Getting started with eSimulation, enjoy a high ROI
Your business will realize improved margins through this comprehensive business modeling and process optimization technology, resulting in a higher ROI with a positive impact on your current organization.
Contact us today to learn more about how working with eSimulation can dramatically transform your midstream business operations.