The eSimulationSM Product Suite
At its core, eSimulation is a modeling and optimization company...
We provide highly specialized modeling and optimization solutions that are structured to meet the specific requirements of mid-stream planning, forecasting and optimization applications. Most importantly, we deliver our powerful modeling and optimization solutions at a price point that is viable for midstream businesses to deploy.
The midstream industry has made significant investments in accounting, measurement, SCADA, DCS, and historian technologies that can be, but seldom are, leveraged for advanced analytical analysis. eSimulation specializes in leveraging these technology investments into higher value applications that answer the questions...
Why is it happening?
What if these trends continue?
What will happen next?
What is the best thing that can be done to increase margins on a go-forward basis?
Capturing additional value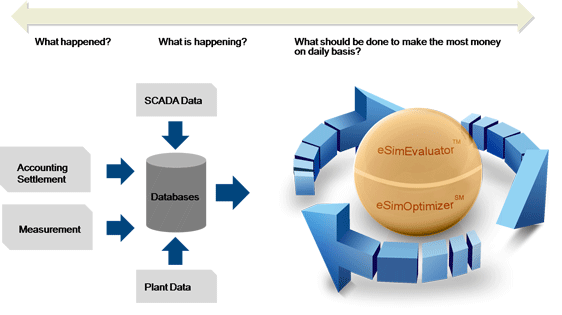 The eSimulation product suite captures additional value from existing technology investments by using them as data sources to populate highly accurate predictive models of process and business assets. These predictive models help midstream managers to more effectively predict, plan, and optimize future business performance.
eSimulation's portfolio of predictive modeling and competency improvement solutions includes...
eSimEvaluator - is an offline predictive model-based, planning, forecasting, and business optimization solution that accurately forecasts gas processor and producer margins under a variety of commodity price, producer contract, and operational assumptions.
eSimOptimizer - is an economic/process optimization solution that combines a rigorous chemical engineering model of the process with a commercial model of the business to deliver optimal performance targets directly to operators.
eSimTrainer - is a comprehensive series of midstream specific, web-based, operator training courses that improve operator competency and reduce the time to competency. eSimulation believes that it is very important that operations personnel are trained to execute the directives derived from its predictive modeling solutions. Therefore, we have teamed up with RWD Technologies, Inc. to deliver these comprehensive training solutions.